Battle of Bunker Hill
From Andover Answers
Several Andover residents were killed at the Battle of Bunker Hill:
Samuel Bailey
William Haggett
Joseph Chandler
Philip Abbot
Salem Poor
Two of the soldiers were Black, Salem Poor and Philip Abbot. Salem Poor was not a slave. He had purchased his freedom from John Roor, Jr. on November 4, 1771. He is credited for mortally wounding British Lieutenant Colonel James Abercrombie. A commemorative stamp was issued in honor of Salem Poor.
See
Historical Sketches of Andover, by Sarah Loring Bailey, page 321-327 (974.45 Bai) .
Andover in the American Revolution by Edward Moseley Harris, page 55 (R974.Har).
"Salem Poor: A Brave and Gallant Soldier," National Historical Park Service Flyer, (images below).
"Salem Poor (1743/44-1802: A Forgotten Hero of Bunker Hill Rediscovered", New England Ancestors, Fall 2007.
"Salem Poor's heroism and disappointing life," Andover Townsman, February 7, 2013, p.11.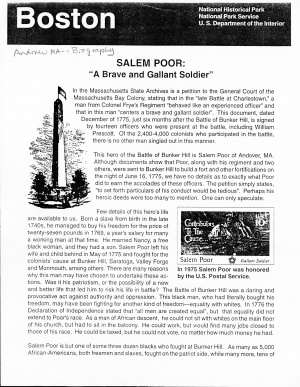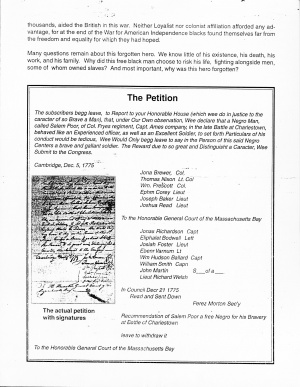 --Eleanor 12:36, May 16, 2006 (EDT)
--Kim 14:49, February 25, 2013 (EST)
--Eleanor (talk) 14:35, 9 April 2015 (EDT)
back to Main Page