Underground Railroad
From Andover Answers
There were several stops on Underground Railroad in Andover.


A brief history of the Underground Railroad from The Underground Railroad in Massachusetts by William H. Seibert (1936):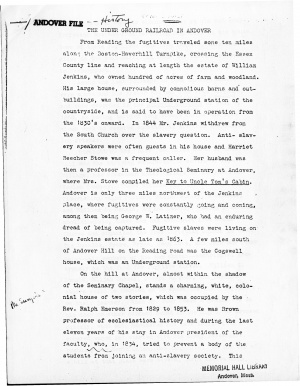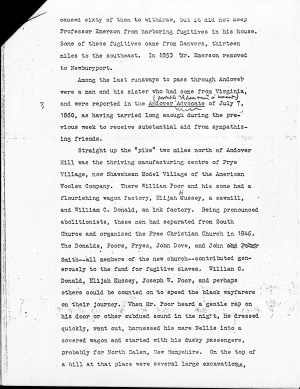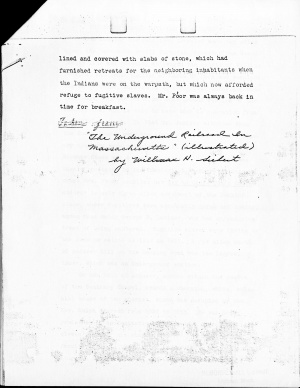 Error creating thumbnail: Invalid thumbnail parameters
Andover Homes involved with the Underground Railroad:
William Jenkins – 8 Douglass Street (formerly Jenkins Road)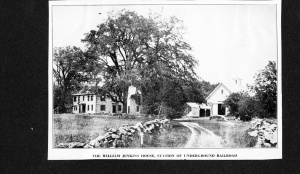 Holt Cogswell House – 373 South Main Street
Mark Newman House – 210 Main Street on the Phillips Academy Campus
Stowe House – 80 Bartlett Street
William Poor and Sons Wagon Factory - 66 Poor Street. William Poor and his sons built carriages with false bottoms for transporting slaves to freedom.
Free Christian Church – 31 Elm Street. This church was formed by John Smith and other Andover residents who did not think that other churches were making a strong stand against slavery.
See
"Jenkins House Station for Escaping Slaves," Andover Townsman, March 22, 1956.
"Antislavery Movement was Active in Andover," Andover Townsman, June 20, 1996, p.20
"Underground Railroad stopped here," Eagle Tribune, February 20, 1998, p. 15.
"Andover's Home was but one Stop on the Underground Railroad," Andover Townsman, October 26, 2000.
"Historian: Not Everyone in Andover Backed Abolition of Slavery Before the Civil War", Townsman, July 17, 2003, p. 11, 12.
--Eleanor 16:06, January 16, 2008 (EST)
--Leslie 17:41, July 18, 2012 (EDT)
--Kim 14:53, July 28, 2014 (EDT)
back to Main Page