Difference between pages "Andover Business - The Cupcake Boutique" and "Fourth of July Horribles Parade"
From Andover Answers
(Difference between pages)
 

 

Line 1:
Line 1:
−

The Cupcake Boutique was opened in 2007 by Sharon Breighner.  The location, on Post Office Avenue, takes over the space once used by Helen Thomas and Sweet Mimi's Chocolates (which are now both on Main Street). Breighner made a deal with the Lawrence Boys and Girls Club to use their kitchen every morning to make fresh cupcakes.

+

The in .  The over the and 's .  

 
+

 

 
+

with

 
+

and .

 
+

 

 
+
 
+
 
 
−

Due to the rocky economy, Breighner had to close the shop on Post Office Ave in 2009.  She is now located within the Andover Spa, next to the sandwich shop Raspberries.

 
 
 
−

<br/>

 
 

See

 

See

−

*"Hollywood trend hits Andover", ''The Andover Townsman'', October 26, 2006.

 
−

*"Spa gets fancy cupcakes", ''The Andover Townsman'', February 5, 2009.

 
 
 
−

[[Image:Cupcakes.jpg|thumb|...''Sharon Breighner''.... click to enlarge|left]]

+

[:...''''..

 
+

 

 
+

.

 
+

.

 
+

 

 
+
 
+

 

 
+

 

 

<br style="clear:both;" />

 

<br style="clear:both;" />

 
 
−

back to [[Main Page|Main Page]]

+

[[|]]

 
 
−

--[[User:Jen|Jen]] 14:31, September 3, 2010 (EST)

+

[[|]]

 

[[Category:Andover Answers Index]]

 

[[Category:Andover Answers Index]]
---
Revision as of 16:37, 8 May 2015
The tradition of the Fourth of July horribles parade in Andover dates back to the early 1800s. The tradition waned over the years and was resurrected in 1970 by the Andover Service Club. In 1982 there was another revival of the Fourth's celebrations by the nonprofit Committee for Patriotic Observances.
The orginal parades were more an adult political event featuring floats and marchers making fun of town officials or adults dressed as hobos with carriages decorated with junk. The contemporary parade includes a more patriotic flavor of floats, children in costumes, decorated bikes and doll carriages, dressed up dogs, and patriotic banners and flags.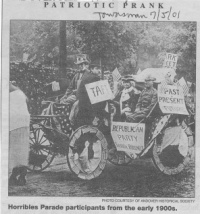 See
"Horribles Parade wasn't always for kids," Andover Townsman, July 1, 1999, page 19.
"Andover has 'Horrible' history," Eagle Tribune, July 3, 2002, p. 1.
Lawrence Eagle Tribune, July 5, 2005
--Glenda 10:37, November 24, 2006 (EST)
back to Main Page