Andover Business - The Cupcake Boutique
From Andover Answers
The Cupcake Boutique was opened in 2007 by Sharon Breighner. The location, on Post Office Avenue, takes over the space once used by Helen Thomas and Sweet Mimi's Chocolates (which are now both on Main Street). Breighner made a deal with the Lawrence Boys and Girls Club to use their kitchen every morning to make fresh cupcakes.
Due to the rocky economy, Breighner had to close the shop on Post Office Ave in 2009. She is now located within the Andover Spa, next to the sandwich shop Raspberries.

See
"Hollywood trend hits Andover", The Andover Townsman, October 26, 2006.
"Spa gets fancy cupcakes", The Andover Townsman, February 5, 2009.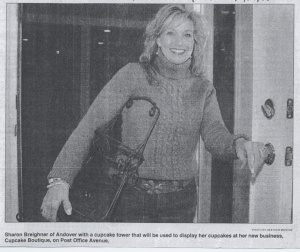 back to Main Page
--Jen 14:31, September 3, 2010 (EST)