Marland Woolen Mills
From Andover Answers
Marland Woolen Mills
Stevens and North Main Street
In 1820, Abraham Marland purchased a paper mill and converted it to produce wool. In 1879, it was bought by the Stevens Woolen Company. The original mill buildings were replaced over time, and the mill operated until 1960.
During World War I and World War II Marland Mills produced wool and flannel for blankets and uniforms. Before World War II Marland Mills employed about 400 people. That number grew to 500 during World War II.
In 1996, one of the remaining buildings was converted to an assisted living facility called Marland Place.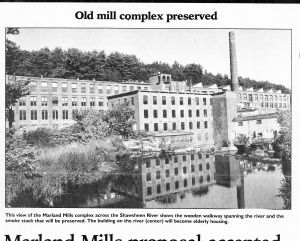 See
Marland's Mill Local Landmark. Then and Now series. (picture of Abraham Marland and the mill) Lawrence Eagle-Tribune April 5, 1976, p.38.
"Mill demolition delayed at least 6 months", Eagle Tribune, October 14, 1993.
"Marland Mills proposal accepted", Eagle Tribune, April 6, 1994.
--Eleanor 12:51, October 7, 2006 (EDT)
--Leslie 16:50, May 15, 2012 (EDT)
back to Main Page