Andover Business - David's Shoe Repair
From Andover Answers
In 2007, David Yaboujian opened his own business called David's Shoe repair. He is the third generation in his family to be a professional cobbler. The shop is located at 7 Bartlet Street in Andover. It has taken the place of Paul's Shoe Repair.
Services available include:

Shoe repair services
Leather-clothing repair
Zipper repair
Orthopedic work
Alterations to leather luggage, furniture and upholstery

See
"Fixing shoes is in his blood", The Andover Townsman, May 10, 2007.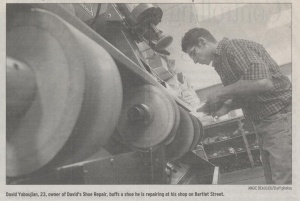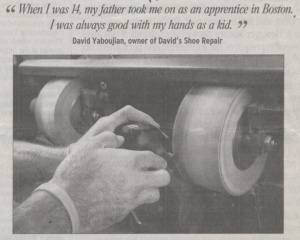 back to Main Page
--Jen 16:05, September 3, 2010 (EST)