Grand Army of the Republic Flag
From Andover Answers
A Grand Army of the Republic Flag was donated to Memorial Hall Library in 1928. In 2003 the flag was restored by Camille Myers Breeze of Museum Textile Services with $6000 funds raised by the library for the project. The Grand Old Army of Republic is a fraternal organization of veterans who fought in the Union Army. Hence, he flag, which dates back to the late 1880's is not a battle flag.

The flag is displayed in Memorial Hall.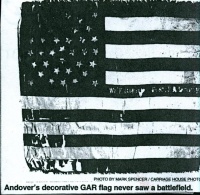 See
"A Grand Old Flag", The Townsman (Town Talk), October, 2, 2003.
--Eleanor (talk) 14:44, 24 March 2016 (EDT)
back to Main Page