Underground Railroad
From Andover Answers
Because many in the community were dedicated to the anti-slavery movement the Underground Railroad had several stops in the homes of Andover.

Andover Homes:
William Jenkins – 8 Douglass St (formerly Jenkins Road)

"The William Jenkins House," The Townswoman's Andover by Bessie Goldsmith (974.45 Gol), p. 20
"Andover's Home was but one Stop on the Undergroud Railroad," Andover Townsman 10/26/2000 (This article is found in the Andover Vertical File under Underground Railroad)
"Andover:Symbol of New England" by Claude Fuess, (974.45 Fuess), p. 314
"Jenkins House Station for Escaping Slaves," Andvoer Townsman, March 22, 1956 (This Article can be found in the Jenkins Family File

Holt Cogswell House – 373 South Main St.
Mark Newman House – 210 Main St. on the Phillips Academy Campus
Stowe House – 80 Bartlett St.
William Poor and Sons Wagon Factory - 66 Poor St.

William Poor and his sons built carriages with false bottoms for transporting slaves to freedom.

Free Christian Church – 31 Elm St.
See

Andover Verticle File - Underground Railroad contains many newspaper articles and other materials written about the role of Andover in rescuing slaves in the 1800s.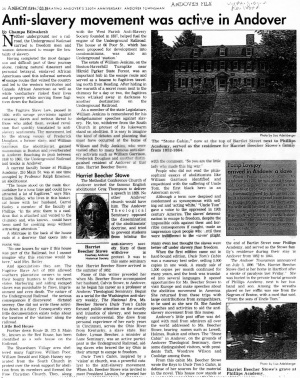 --Eleanor 16:06, January 16, 2008 (EST)
back to Main Page