Difference between pages "File:Bella Beads Boutique.jpg" and "Andover Business - Bella Beads Boutique"
From Andover Answers
(Difference between pages)
 

 

Line 1:
Line 1:
 
+
 
 
 
+
 
+
 
+
 
+
 
+
 
+
 
+
 
+
 
+
 
+
 
+
 
+
 
+
 
+
 
+
 
+
 
+
 
+
 
+
 
+
 
+
 
+
 
+
 
+
---
Revision as of 15:38, 12 August 2010
This jewelry and beading store opened on November 11, 2006 in Old Andover Village next to the Lantern Brunch. It is owned and operated by Carla Byrne, a graduate of Lawrence high school.
After graduating from Lawrence, Byrne pursued a degree in education and minored in art. She went on to teach kindergarten and first grade at a private school in Tewksbury and then worked with third-graders at South Elementary School. Ultimately, Byrne decided to go back to her love of art and open a beading store.
Bella Beads boutique offers a global selection of beads as well as consignment items made by local jewelers, finished pieces and jewelry repair. There are also beading workshop classes offered from both adults and teens.
Other unique services include:
vintage redesign services
customized jewelry for weddings and proms
a monthly teen showcase to feature the work on young, local artists
Byrne has been a member of the Andona Society since 2000 and states that fundraising and community involvement are important to her. She also works with groups like A Better Chance and the Lawrence Public School system. As of 2006, she had donated a number of jewelry sets to local fundraisers and over 25% of her profits from her home business.
Bella Beads Boutique is located at 93 Main Street in Old Andover Village and is open Tuesday-Saturday from 10am to 5pmduring the summer. During other seasons, Thursday hours change to 12-5.
See
"Get a bead on this", Andover Townsman, November 16, 2006.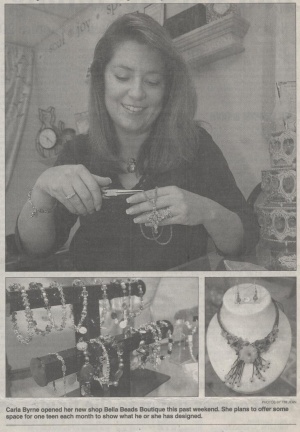 back to Main Page
--Jen 15:36, August 12, 2010 (EST)
File history
Click on a date/time to view the file as it appeared at that time.
You cannot overwrite this file.
File usage
The following page links to this file: