Difference between pages "File:Boston King Cafe.jpg" and "Andover Business - Boston King Cafe"
From Andover Answers
(Difference between pages)
 

 

Line 1:
Line 1:
 
+
 
 
 
+
 
+
 
+
 
+
 
+
 
+
 
+
 
+
 
+
 
+
 
+
 
+
 
+
 
+
 
+
 
+
 
+
---
Revision as of 11:45, 19 August 2010
Boston King Cafe was opened on April 26, 2008 by Andover resident Sun Son. It is located on North Main Street in the same location where Friendly's used to be until closing in 2005. The building was purchased by Butler Bank and they chose to rent out space to other local businesses, including Boston King Cafe, a law office and an orthodontic practice.
Boston King Cafe is the sister of Boston King Coffee located in Woburn. It serves breakfast all day and has a large selection of gourmet coffees and teas. Boston King Cafe is one of five coffee-focused shops on Main Street in Andover, including Perfecto's, Ultimate Perk, Dunkin' Donuts and Starbucks.
Sun Son has been a coffee dealer and restaurant owner for many years. He also sells coffee and espresso machines to clients in Japan and Korea.
See
"Andover man to open cafe in bank building", Eagle Tribune, January 9, 2007.
"New cafe has opened", Andover Townsman, May 1, 2008.
"New cafe opens on North Main", Andover Townsman, May 8, 2008.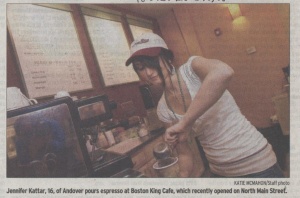 back to Main Page
--Jen 11:42, August 19, 2010 (EST)
File history
Click on a date/time to view the file as it appeared at that time.
You cannot overwrite this file.
File usage
The following page links to this file: