Difference between pages "Andover Business - The Chic Consignment Closet" and "Telephone"
From Andover Answers
(Difference between pages)
 

 

Line 1:
Line 1:
−

The Chic Consignment Closet is located at 46 Main Street and is owned and operated by Lise Nardone.  The boutique opened on June 11, 2009 and replaced Stitch Boutique, which closed in May of 2009.

+

and by .  in .

 
 
−

In April of 2009, Nardone began to sell consignment items in her boutique for young women called Gigi's of Andover on Essex Street.  The idea proved to be successful and Nardone decided to open a separate high-end consignment clothing and accessories shop.

+

In to Andover.  The to and to .

 
 
−

The store specializes in designer juniors, misses and women's clothing and handbags.  Most items in the store are priced at approximately one-third to one-quarter of the original retail prices.  Some of the most notable brand carried in the store include Burberry, Prada, Diane von Furstenberg, Coach, Loui Vuitton and Lacoste.  Women interested in dropping off clothing for consignment can receive up to 40% of the piece's selling price.  The item should be in excellent condition and no more than 2 years old.

 
 
 
−

 

+

:from

−

Hours of Operation:

+
−

 

+
−

Monday - Open for consignors only from 10am to 2pm <br>

+
−

Tuesday to Friday - 10am to 5pm <br>

+
−

Saturday - 10am to 4pm <br>

+
−

Sunday - Closed

+
 
 
 

See

 

See

 
+
 
+
 
+
 
+
 
 
−

*"Designer consignment shop opens in downtown Andover", ''The Eagle Tribune'', June 29, 2009.

 
 
 
−

[[Image:Chic Consignment Closet.jpg|thumb|...''Chic Consignment Closet''.... click to enlarge|left]]

 
 
 
−

<br style="clear:both;" />

+

:

 
 
 
+
 

back to [[Main Page|Main Page]]

 

back to [[Main Page|Main Page]]

−

 
−

--[[User:Jen|Jen]] 16:56, August 26, 2010 (EST)

 
 

[[Category:Andover Answers Index]]

 

[[Category:Andover Answers Index]]
---
Revision as of 13:48, 22 October 2015
In the late 1880's Moses Stevens connected the Marland Mills - one in Andover, one in Haverhill, and one in North Andover - by telephone. This was the first telephone in Andover. Moses Stevens had bought Marland Mills from Abraham Marland in 1879.
In the 1958 dial telephones came to Andover. The first exchange was Greenleaf (475). Andover originally had a 617 area code. It was first changed to 508 and finally to 978 in 1977.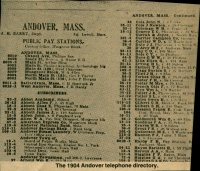 from the Andover Townsman Centennial Issue, July 21, 1933
See
--Eleanor 16:27, November 17, 2009 (EST)\
--Eleanor (talk) 13:41, 22 October 2015 (EDT) back to Main Page