Difference between pages "File:Piercepage5.jpg" and "Andover Historic Houses - Captain Stephen Abbot"
From Andover Answers
(Difference between pages)
 

 

Line 1:
Line 1:
 
+
 
 
 
+
 
+
 
+
 
+
 
+
 
+
 
+
 
+
 
+
 
+
 
+
 
+
 
+
---
Revision as of 15:44, 1 May 2015
The Stephen Abbot House was built in 1806 on Main Street, Andover or as it was called at that time, Essex Turnpike. The property was sold many times through the years and through the years was used as a residence and housed several businesses.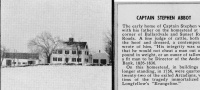 See
]

--Eleanor (talk) 15:30, 1 May 2015 (EDT)
back to Main Page
File history
Click on a date/time to view the file as it appeared at that time.
You cannot overwrite this file.
File usage
The following file is a duplicate of this file (more details):
There are no pages that link to this file.