Andover Historic Houses - Andover Train Depot
From Andover Answers
Andover's main train depot is located at 100 School Street. It was built in 1906. It stopped functioning as a train station in the 1960s. Since then it has been home to a number of businesses including a fish market and restaurant called Sea Train, a coffeehouse, an auto parts store and a photography studio.
The building was detroyed by fire in 1994. Resident Richard Marino bought the building and restored it at a cost of $485,000. It is now on the National Historic Register.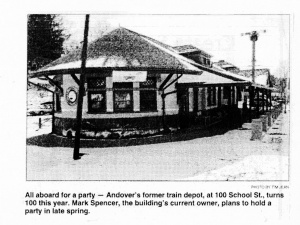 See
"100 School Street turns 100," Andover Townsman, March 2, 2006.