Andover Historic Houses - Parson Barnard House
From Andover Answers
The Parson Barnard House in North Andover dates to 1715. It was built by Thomas Barnard, who served as the third minister of what is now the North Parish Unitarian Church. It is an example of "first period" architecture.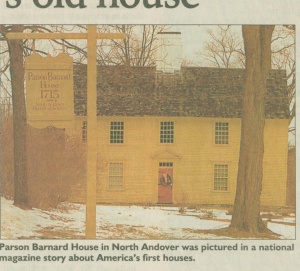 See
The Parson Barnard House. by Abbott Lowell Cummings (Andover Room R 728.80974 Cum (pamphlet box 1))
"Under the clapboards, the story of an amusing mistake", Boston Sunday Globe, September 8, 1996.
"'This Old House' is North Andover's old house", Eagle Tribune, January 5, 1998.
--Kim 11:50, March 6, 2012 (EST)
back to
Main Page