Andover Historic Houses - Rose Cottage
From Andover Answers
The Rose Cottage, located on the corner of Central & Chestnut streets, was built in 1784 by Abner Abbot, a blacksmith. In 1797, it was bought by Esquire John Kneeland, merchant, lawyer, and member of the Massachusetts Constitutional Convention. Kneeland entertained General Lafayette at the Rose Cottage during Lafayette's 1825 visit to America to dedicate the Bunker Hill Monument. General Lafayette spoke to the townspeople of Andover from the Rose Cottage's front porch.
In 1837, the cottage served as the rectory of Christ Church and was later purchased by the Marland family. In 1906, Mrs. Abram Marland made it into a tea room called the "Rose Cottage Tea Room." In 1920, James and Mary Ellen Anderson moved into the cottage and had an antique shop. In 1949, the house was sold to Louise Coffin. In 1996, Carroll and Elaine Bailey bought the cottage.
Howard Ames Coon , an Andover artist, painted a watercolor of the Rose Cottage.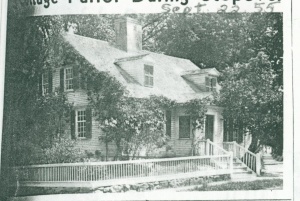 See
"Lafayette Drank Grog in Rose Cottage Parlor During Stopover," Andover Townsman, September 22, 1955.
Andover Townsman, May 27, 1971,
"From old cottage to modern home," Andover Townsman, July 10, 2003.

--Glenda 11:31, November 30, 2006 (EST)
--Kim 12:42, March 1, 2012 (EST)
back to Main Page