Difference between pages "Smith and Dove Flax Mills" and "Schools Constructed Prior to 1950"
From Andover Answers
(Difference between pages)
 

 

Line 1:
Line 1:
−

John Smith was born in Brechin, Scotland in 1802.  After the death of his father in 1810, John was unable to attend school regularly and began to work on farms and in flax mills to help his family survive.

+
 
 
−

Smith left Scotland and traveled to Boston via Halifax, Nova Scotia.  He arrived on December 15, 1816. He found work as a machinist in Watertown. He left to travel the country in August of 1819, arriving back in Medway, Massachusetts in 1820, where he worked as a machinist again.

+

and to .  in .

 
+

, ,

 
 
−

Smith founded a machine company in Plymouth known as John Smith & Co and asked his brother Peter to join him in America.  Seeking the water power in Andover, John and his two business partners moved their company to an unoccupied mill in Frye Village in 1824; the business partners died in 1829.

 
 
 
−

In 1833, Peter Smith and John Dove decided to form a company to spin flax and manufacture machinery needed for the process.  They had originally met in Scotland where they worked for John Dove's father. John Smith went into business with them and eventually the company ceased making machinery. They bought water power and buildings from Abel and Pascal Abbot in Abbot Village in 1843. In 1864, John and Peter Smith and John Dove incorporated as the Smith & Dove Company. By 1896 they employed 300 people.

 
 
 
−

John and Peter were philanthropists. John donated funds to Phillips Academy, Abbot Academy and $50,000 to establish Memorial Hall Library. John saw slaves being sold in South Carolina and became a staunch abolitionist.  He founded the Free Christian Church based on anti-slavery doctrine - something he became adamant about after seeing slaves being sold in his travels in the South. Peter was a supporter of the West Parish Church.

+

Parish

 
 
−

John's home on 349-351 North Main Street became the [http://www.mhl.org/historicpreservation/detail.htm?ID=546 Shawsheen Manor].

+

North . .  

 
+
 
 
−

Both John and Peter are buried at the West Parish Garden Cemetery.

 
 
 
−

See

 
−

*"Andover Stories column: Smith & Dove: Turning Flax into Gold", ''Townsman'', March 31, 2011.

 
−

*Andover Historical Society Newsletter Articles:

 
−

**"First Flax Mill in America (Smith & Dove Mfg. Co.")by George Glennie - Vol. 03, No. 4

 
−

**"A Long Linen Thread: Smith & Dove in Andover" by Florence Feldman-Wood - Vol. 23, No. 4

 
−

*[http://www.andoverhistorical.org/manuscripts/manuscripts-mss420.htm Mary Byers Smith Papers (granddaughter of John Smith)] Andover Historical Society

 
−

*[http://andover.mvlc.org/eg/opac/record/103693?query=historical%20sketches%20andover%20bailey;qtype=keyword;locg=5  ''Historical Sketches of Andover, Massachusetts''.]    by Sarah Loring Bailey  (974.45 Bai)

 
 
 
−

<br style="clear:both;" />

+

=

 
 
−

[[Image:hillsidehouse.jpg|200px|thumb|left|Hillside House]]

+
 
+
 
+
 
+
 
+

 

 
+
 
+

 

 
+
 
+
 
+

 

 
+

 

 
+
 
+

 

 
+
 
+

 

 
+

[[Image:

 
+

 

 
+
 
+

 

 
+

.jpg|200px|thumb|left|]]

 
 
 

<br style="clear:both;" />

 

<br style="clear:both;" />

 
 
−

--[[User:Eleanor|Eleanor]] 12:53, October 7, 2006 (EDT)<br>

+

--[[User:Eleanor|Eleanor]] :, , ()--[[User:Leslie|Leslie]] :, August , 2012 (EDT)--[[User:|]] :, , 2012 ()

−

--[[User:Leslie|Leslie]] 17:48, August 8, 2012 (EDT)<br>

+

 

−

--[[User:Eleanor|Eleanor]] 20:46, December 27, 2012 (EST)<br>

+
−

--[[User:Eleanor|Eleanor]] ([[User talk:Eleanor|talk]]) 14:58, 22 January 2016 (EST)

+
 

back to [[Main Page|Main Page]]

 

back to [[Main Page|Main Page]]

 

[[Category:Andover Answers Index]]

 

[[Category:Andover Answers Index]]
---
Revision as of 16:03, 22 January 2016
North District School
The school was located on the corner of North Street and River Road from 1835 to 1947. Later the building was used by West Andover Community Associaton. It was demolished in 1984.
Andover Townsman, November 10, 2005
North Parish School
The first school house in Andover was erected in Feb. 3, 1701, in North Parish (now North Andover). In 1718, a second schoolhouse was erected in South Parish.
Lawrence Eagle Tribune, October 22, 1964
Punchard Free School
The Punchard Free School, at 36 Bartlett Street, was founded in 1856 by bequest of $50,000 from resident Benjamin H. Punchard. The school was dedicated September 2, 1856 but fire destroyed it 12 years later. The school was rebuilt under the jurisdiction of the town. Public funding began in 1901 and the school was renamed Punchard High School. When a new high school was built in 1957, Punchard became Andover Junior High. The last high school class graduated from Punchard on June 14, 1957. Conversion to town offices began in 1982.
Andover Townsman, December 30, 2004
Andover Townsman, June 20, 1957
The Townswoman's Andover by Bessie Goldsmith, pages 43-39 (974.45 Gol)
Stowe School
Stowe School, named after Harriet Beecher Stowe, was located on Bartlett Street from 1894 to 1971. It housed the Central Grammar School.
Andover Townsman, June 19, 2003
Chronology of Andover Schools
The chronology of Andover's school buildings was researched by James Batchelder.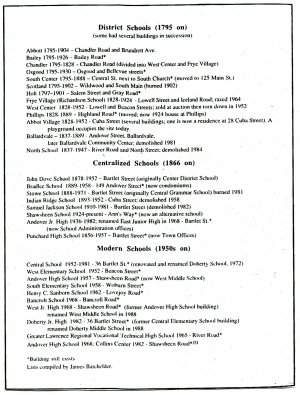 Andover Public Education Started by 1647 Law. by Jim Batchelder, Andover Historical Society.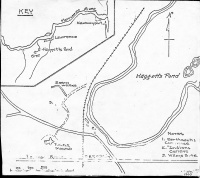 --Eleanor 11:40, February 13, 2010 (EST)--Leslie 16:57, August 21, 2012 (EDT)--Leslie 14:45, September 11, 2012 (EDT)
back to Main Page