Old Town House
From Andover Answers
The Old Town House is also known as the Old Town Hall.
On March 1, 1858, a committee was appointed to choose a site for and to consider building a Town House. The land was chosen and purchased from Mr. W. Philip Foster for $2,000. The Town House was built in 1858 at a cost of $15,500 and is located on Main Street in the middle of town.

The architect was Theodore Volkers and the contractors were Abbott & Clement. The building was described as a "spacious hall in the second story, with a small gallery and four anterooms. In the first floor, a smaller hall, also a post office room, treasurer's and selectmen's room with a fire-proof safe, and a small room to rent as an office or store." In a committee report made on December 20, 1858, the building was described as 55ft by 86ft long.

On May 7, 1860, the committee reported the expenditures:
Land $2,000.00
Building $13,541.16
Furniture $1,474.10
Celebration $105.90
Total Expense: $17,122.16


In 1882, an extension was added for cooking accommodations and water for use by clubs and private parties. In 1902, a lobby was designed with ornamental winding staircases and tinted walls. The Town Seal was placed in the mosaic floor.

During WWII, the second floor was subdivided into office space. Several plans to raze the building were thwarted in the 1950s and 1960s.

In 1989, the facility was completely renovated adding air-conditioning. The building is now available for wedding receptions, theater performances, and banquets. There is still a Post Office substation on the first floor. A "Rededication Ceremony for the Andover Town House" was held on May 6, 1989.

In 2008, work was done to fix damaged shingles that had started to fall off the roof. This necessitated blocking off the parking spaces surrounding the building.
In 2009, the hall at Old Town Hall was named the "James D. Doherty Town Meeting Hall," after the town's longtime Town Meeting moderator, Jim Doherty.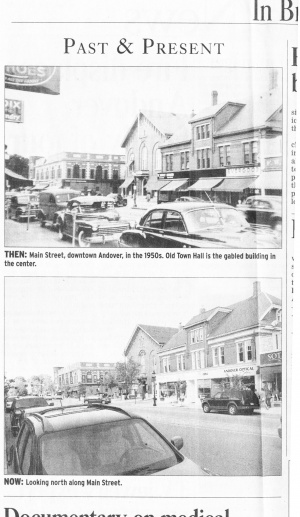 See
Andover Advertiser, September 4, 1858.
Andover Advertiser, November 20, 1858.
Andover Advertiser, December 25, 1858.
Andover Advertiser, January 1, 1859.
"Andover considers ways to save old Town Hall", Eagle Tribune, November 25, 1986.
Andover Townsman, April 27, 1989
Andover Townsman, May 4, 1989, p. 6+
"Sentimental journey for hall", Andover Townsman, July 21, 2005.
"Roofing slate falls from Old Town Hall", Eagle Tribune, January 18, 2008.
"Falling shingle prompts emergency roof fix", Andover Townsman, February 7, 2008.
"Is there new revenue in Andover's Old Town Hall?", Eagle Tribune, March 18, 2008.
"Hall named for Jim Doherty," Andover Townsman, November 26, 2009.
"Past and Present: Old Town Hall", Andover Townsman, October 25, 2012, page 3.
Andover Town House Function Room
Andover Vertical File--Historic Houses--Town House

--Glenda 10:03, January 26, 2007 (EST)
--Kim 16:32, March 14, 2012 (EDT)
back to Main Page