Difference between pages "Ballardvale Historic District Commission" and "Colonial Theater"
From Andover Answers
(Difference between pages)
 

 

Line 1:
Line 1:
−

The Ballardvale Historic District Commission established by the town in 1995 to preserve Ballardvale. According to Chapter 40C of the Massachusetts General Laws its mission is to:

+

The . the its to and the of the .  

−

*To preserve and protect the distinctive characteristics of the buildings and places significant to the history of the Commonwealth's cities and towns.

+
−

*To maintain and improve the settings of those buildings and places.

+
−

*To encourage compatibility with existing buildings when new buildings are planned within the district."

+
 
 
−

The regulations for changes to buildings in Ballardvale are clearly defined in the *Rules Regulations and Procedures of BVHDC".

+

.

 
 
−

See

+
 
 
−

    History of Ballardvale Andover Room R 974.45 His

+

.the

−

    Ballard Historic District Commission (BVHDC)

+
−

    Rules, Regulations and Procedures of BVHDC

+
−

    "Ringing Out the Old" Townsman, January 1 ,2004

+
 
 
 
+
 
+
 
 
−

--Eleanor 15:22, March 14, 2006 (EST)

+

:

−

 

+

back to Main Page

−

--Eleanor (talk) 15:23, 5 March 2015 (EST)

+
−

 

+
−

back to Main Page

+
---
Revision as of 11:54, 18 March 2015
The Colonial Theater was located on Essex Street. In the 1950's it changed its name to Andover Playhouse and was once the home of the Andover Senior Center.
It functioned as a movie theater. Movies could not be shown on Sundays until 1933.
It was razed for the parking lot behind the Memorial Hall Library in 1985.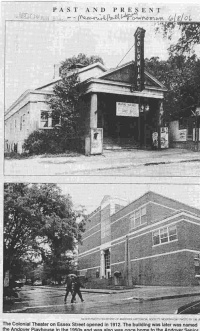 See

back to Main Page