Andover Teacher's Seminary
From Andover Answers
The Andover Teacher's Seminary was established using an unrestricted bequest from William Phillips II. A progressive institution for it's time, it was only the second teacher training program in the United States. It featured chemistry and physics laboratories and a library of 805 volumes.
Samuel Read Hall, the first principal, is credited with developing respected educational philosophies, as well as inventing the first blackboard and eraser.
Frederick Law Olmstead was a student here.
Due to lack of continuing funding the school closed its doors in 1842.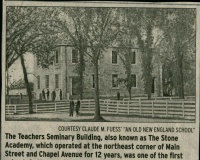 See

"The preacher behind Andover Teachers Seminar," Andover Townsman, April 9, 2015, p. 15.
"Andover Teachers Seminary: A Short-Lived Lesson Ahead of its Time. Andover Townsman, March 2, 2015, page 19.
--Eleanor (talk) 14:33, 12 February 2016 (EST)
back to Main Page