Andover History
From Andover Answers
The territory within the limits of the town of Andover was originally called Cochicawick. Andover was incorporated as a town May 6, 1646, and was named for the town in Hants County, England, which had been the home of many settlers.
A committee was appointed by the General Court on June 1, 1652, to lay out the bounds between Andover and Cambridge.
The bounds between Andover and Billerica were established May 26, 1658.
The bounds between Andover and Wills Hill were established May 9, 1678.
June 20, 1728, a part of Andover was included in the new town of Middleton.
April 17, 1847, a part of Andover was included in the new town of Lawrence.
April 7, 1855, a part of Andover was established as North Andover.
The division of Andover into two parishes: Andover and North Andover was enacted in the The Massachusetts Acts of 1855, Chapter 150 on page 587.
February 7, 1879, a part of Andover was annexed to Lawrence.
The bounds between Andover and Tewksbury were established May 21, 1903.
The bounds between Andover and North Reading were established April 22, 1904.
In the mid 1840's the early settlers of Andover - John Osgood, Reverend John Woodbridge and Nicholas Holt - came from areas in England that used an open farm system. Homes were in a compact area with the farming areas located in large open fields. As the town grew the farming parcels and of land given to new arrivals and families of the original settlers was far from the center of town, people began to build homes on their farming lots so they would not travel long distances to farm each day. This drove the population to the South.

Vital records for Andover from 1647-1905 on available at the library on microfiche. Contents of the fiche are listed below.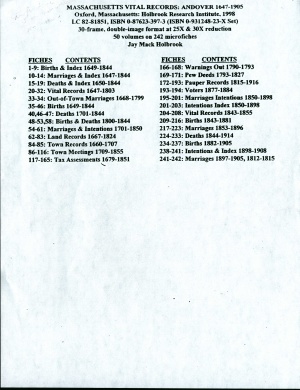 The Commonwealth of Massachusetts Acts and Resolves for 1956, Chapter 571 established a Town Manager system of government for Andover. The plan called for a Board of Selectmen, a moderator, school committee, Trustees of Punchard Free School, Trustess of Cornell Fund, a housing authority.

See
The Massachusetts Acts of 1855, Chapter 15O, page 587. * The Commonwealth of Massachusetts Acts and Resolves for 1956, Chapter 571
Andover Symbol of New England by Fuess, Claude Moore, (974.45 Fue)
"Historic Andover" by Annie Sawyer Downs in New England Magazine, volume 20, issue 4, page 483 - 507
Historical Sketches of Andover by Bailey, Sarah Loring, (974.45 Bai)
"The Hitherto Undiscovered First Settlements of North Andover and Andover of 1629 and 1634. " a slide show by Wrigley, Clifford (Andover Room R 974.45 Wri)
"The Old Patterns in the New World: the Distribution of Land in 17th Century Andover", by Philip J. Greven, Jr., Essex Institute Historical Collections, April 1965, page 133+
--Eleanor 15:15, February 21, 2008 (EST)
--Kim 10:38, May 10, 2013 (EDT) --Eleanor 12:15, February 13, 2015 (EST)
back to Main Page