Grand Army of the Republic Flag
From Andover Answers
A Grand Army of the Republic Flag was donated to Memorial Hall Library in 1928. In 2003 the flag was restored by Camille Myers Breeze of Museum Textile Services with $6000 funds raised by the library for the project. The flag is displayed in Memorial Hall.
The Grand Old Army of Republic is a fraternal organization of veterans who fought in the Union Army. Hence, he flag, which dates back to the late 1880's is not a battle flag. This flag belonged to the General William F. Bartlett GAR Post 99. General Bartlett, a graduate of Phillips Academy, became a General at the age of 24. He commanded the 54th Massachusetts Volunteer Infantry - unique because the members of the unit were all African American. The officers, however were not. This unit is commemorated in the movie Glory.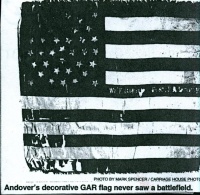 See
"A Grand Old Flag", The Townsman (Town Talk), October, 2, 2003.
--Eleanor (talk) 14:44, 24 March 2016 (EDT)
back to Main Page