Difference between pages "File:Best Dressed.jpg" and "Andover Business - Best Dressed"
From Andover Answers
(Difference between pages)
 

 

Line 1:
Line 1:
 
+
 
 
 
+
 
+
 
+
 
+
 
+
 
+
 
+
 
+
 
+
 
+
 
+
 
+
 
+
 
+
---
Revision as of 16:14, 12 August 2010
Best Dressed is owned by Erin Ryan and is located in Park Street Village. It has its grand opening in April of 2005. Ryan visits a number of New York City fashion shows annually and brings her favorite designs to her Andover store. Her three daughters help her to pick out designs for younger shoppers, making it a perfect place for mothers and daughters to shop together. Ryan's daughters are Anna, Margot and Maura.
In July of 2006, Best Dressed announced that it would be moving to 89 Main Street, next to the Lantern Brunch. However, as of 2010, Bella Beads is in the 89 Main Street location (which was formerly the home of Yankee Lady).
See
"Kids' picks help stock Best Dressed", Andover Townsman, October 13, 2005.
"Best Dressed moving to Andover Village", Andover Townsman, July 13, 2006.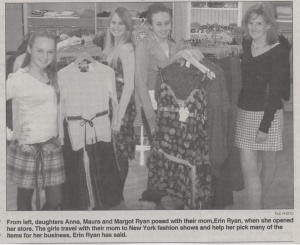 back to Main Page
--Jen 16:12, August 12, 2010 (EST)
File history
Click on a date/time to view the file as it appeared at that time.
You cannot overwrite this file.
File usage
The following page links to this file: