Andover Business - Best Dressed
From Andover Answers
Best Dressed, owned by Erin Ryan, was located in Park Street Village. The store featured fashions from New York City..
In July of 2006, Best Dressed moved to 89 Main Street. In 2010, after Best Dressed ceased operation, Bella Beads moved to the 89 Main Street location.
See
"Kids' picks help stock Best Dressed", Andover Townsman, October 13, 2005.
"Best Dressed moving to Andover Village", Andover Townsman, July 13, 2006.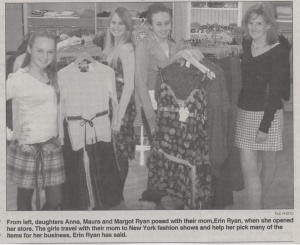 back to Main Page
--Jen 16:12, August 12, 2010 (EST)