Andover Historic Houses - Pearson Farmhouse
From Andover Answers
In 2001, the 19th century Pearson Farmhouse, built by Joseph Pearson, was moved from it's original location on the Phillips Academy campus, 254 Main Street, to 305 South Main Street. The move made way for the construction of the PA hockey rink. Builder David Barrett bought the home from PA for $1, moved it at the cost of $50,000, renovated it, and put it on the market for $699,000.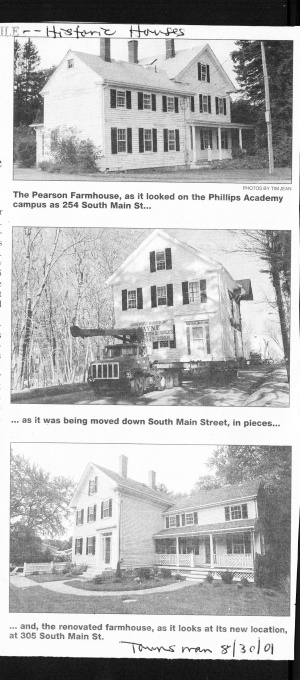 See
"Historic farmhouse will move, in time", Andover Townsman, November 16, 2000.
"History falls in way of ice rink", Eagle Tribune, March 25, 2000.
"Sale price from $1 to $699,000: Renovation complete on Pearson Farmhouse", Andover Townsman, August 30, 2001.