Slavery
From Andover Answers
Many affluent Andover families owned slaves before slavery was abolished in Massachusetts in 1783. Three well known freed slaves were Cato Freeman, Pompey Lovejoy, and Salem Poor. Freeman had been owned by Deacon Samuel Phillips before he married and purchased a 16 acre farm. Pomp's Pond is named for Pomp Lovejoy, a former slave of Captain William Lovejoy. Salem Poor bought his freedom in 1769 and went on to fight in the Revolutionary War. He was much praised for his actions at the Battle of Bunker Hill. He went on to fight at Saratoga, Valley Forge, and Monmouth, as well as other battles.
Pomp, a slave of David Abbot who was born free, appealed to the Andover selectmen when Massachusetts had abolished slavery and other slaves were suing for their freedom. The selectmen gave Pomp, still a slave, to Captain Charles Furbish, who proved a harsh master. Pomp murdered his new master, thinking he would inherit Furbish's farm. Pomp was executed in 1795.
Caesar Russell, Prince Johnnot, Cato Foster, and Cato Freeman (or Freman) fought in the Revolutionary War.

Error creating thumbnail: Invalid thumbnail parameters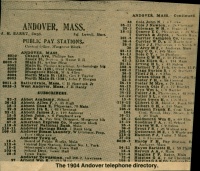 See
Anti-Slavery Movement and the Underground Railroad in Andover & Greater Lawrence, Massachusetts, Andover Room R 974.45 Gre (pamphlet box 6)
Salem Poor: A Brave and Galiant SoldierNational Park Service, Boston.
Founding of the Free Christian Church of Andover by Mary Byers Smith, Andover Pamplet Box 5, page 12 headstone of Primus a former Andover slave
Murder and Mayhem in Essex County by Robert Wilhelm. 364.2523 Wil
Dying Confession of Pomp, a Negro Man, Who Was Executed at Ipswich, on the 6th August, 1795, for Murdering Capt. Charles Furbish, of Andover, Taken from the Mouth of the Prisoner, and penned by Joanathan Plummer Documenting the American South (see document menu). 8/3/2011.
Prejudice in Early Andover. by Katie Gohn.
"Anti-Slavery Movement was Active in Andover," Andover Townsman, June 20,1996, p.20.
"Descendents Mark Legacy of Black Patriots," Boston Globe, April 9, 2000, p.7 (Northwest Section).
"Andover home was but one stop on the Underground Railroad (Jenkins House)," Andover Townsman, October 26, 2000.
"Underground. Historian: Not Everyone in Andover Backed Abolution of Slavery Before the Civil War," Andover Townsman, July 17, 2003, p. 11, 12.
"Slavery Did Exist in Early Andover (Lucy Foster and census number of blacks)," Andover Townsman, July, 26, 2012, p. 16.
"Abolitionism in Andover," Andover Townsman, August 2, 2012, p.15.
"Salem Poor's heroism and disappointing life," Andover Townsman, February 7, 2013, p.11.
"A brief local history of slaves in Andover," Andover Townsman, February 14, 2013, p. 11.
--Eleanor 14:40, August 28, 2007
--Leslie 10:25, September 11, 2012 (EDT)
back to Main Page