Cemeteries in Andover
Jump to navigation
Jump to search
The first documented gravestone in Andover was placed at South Church in 1711.
Chapel Cemetery at Phillips Academy

Originally the cemetery for the Andover Theological Seminary
First burial was in 1810.
Those buried include: Harriet Beecher Stowe; John Dove; Alice Buck; Elizabeth Stuart Phelps and Warren Draper.

See "A little cemetery - a lot of history," Andover Townsman, December 5, 2013, p. 16.
Cornelius Gould Farm Cemetery

Contains only three gravestones and a few unmarked graves: Cornelius Gould, Lydia Gould, and Emerson Gould.
When the boundary line between Andover and North Reading was established in 1904, a portion of the Gould Farm was in North Reading. The cemetery is in this portion.
Jenkins Family Cemetery - See Woodbridge-Jenkins Family Cemetery
Sacred Heart Cemetery

Located at 80 Corbett Road in the Shawsheen section of Andover.
A member of the Catholic Cemetery Association
South Church Cemetery

Located at the corner of Central and School Streets (41 Central Street)
Oldest cemetery in Andover
First recorded burial was Robert Russell in 1710.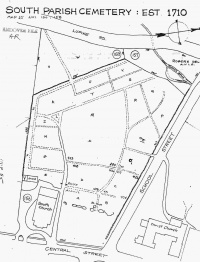 Spring Grove Cemetery

Located on Abbot Street.
This is the Andover town cemetery. At the annual town meeting on March 1, 1869, it was voted to purchase land for the cemetery. Graves in this cemetery date back to 1871. A history of the cemetery is contained in a pamphlet entited "Spring Grove Cemetery: Information and rules and regulations, June 30, 1941."
An online search by name is located on the town's website Spring Grove Cemetery search
West Parish Cemetery

Located at 129 Reservation Road.
Graves in this cemetery date back to 1692 & 1751.
Woodbridge-Jenkins Family Cemetery

Located behind 89 Jenkins Road.
Only 12 stones remain in this unused family graveyard.
Originally the Samuel Jenkins family was buried there. They have all been reinterred at Spring Grove Cemetery in the William Jenkins lot.
Some stones mark the direct descendants of Rev. John Woodbridge, the first minister of Andover.
Graves in this cemetery date back to 1752.
The town adopted the cemetery at the 2002 town meeting.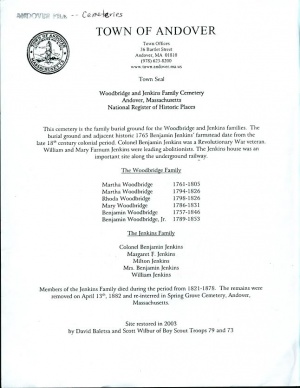 See
"Buried here (famous Andover residents)," Andover Townsman, October 26, 1995, p. 1.
"Historic Undertaking: Repairing stones is grave matter," Andover Townsman, February 21, 2002, p.1.
"Revolutionary War-era cemetery now town's," Andover Townsman, April 25, 2002.
"Revolutionary War era cemetery is town's: Woodbridge Jenkins Cemetery," Andover Townsman, May 2, 2002, p. 22.
"Farm and Neighborhood Cemeteries of Andover and North Andover, Mass, Including Stone Inscriptions" by Lenora White McQuesten.
"Finding roots in Andover," Eagle Tribune, January 11, 2009, p. 9.

See also

--Eleanor 15:41, June 13, 2006 and December 2, 2014 (EDT)
--Kim 20:38, December 12, 2012 (EST)
--Eleanor (talk) 10:52, 18 March 2015 (EDT)
back to Main Page