Difference between pages "Putnam, Miriam" and "Indian Ridge"
From Andover Answers
(Difference between pages)
 

 

Line 1:
Line 1:
−

Miriam Putnam, 1904-1996, served as director of Memorial Hall Library for 28 years from 1939-1967. Ms. Putnam received a library degree from Columbia University and had also worked at the Newton Free Library.  

+

a and had the .

 
 
−

During her tenure, Andover became the headquarters of one of the seven subregions in the Eastern Massachusetts Regional Library system. The contract was signed on June 11, 1967.  

+

the of the the was . to to to and this .

−

Miss Putnam retired in 1967 but went on to Talledega College in Alabama as Assistant Librarian to continue to be socially active and work with young people in this inter-racial college.

+
 
 
 
+
 
+
 
+
 
+
 
 
 
+
 
 
−

See

 
 
 
−

*Reading Room Named for Town Librarian. (photo) ''Andover Townsman'' November 23, 1966, p.1,16.

 
−

*''Andover Townsman'', September 14, 1967.

 
−

*''Andover Townsman'', March 28, 1996

 
−

 
−

--[[User:Glenda|Glenda]] 10:26, June 14, 2007 (EDT)<br>

 
−

--[[User:Eleanor|Eleanor]] 15:39, March 13, 2012 (EDT)

 
 

<br style="clear:both;" />

 

<br style="clear:both;" />

 
 
 
+
 
+
 
 
 
 
 

back to [[Main Page|Main Page]]

 

back to [[Main Page|Main Page]]

 

[[Category:Andover Answers Index]]

 

[[Category:Andover Answers Index]]
---
Latest revision as of 09:57, 26 May 2015
Indian Ridge was formed when an ice glacier melted forming a ridge. This 23 acre tract of land covers the area between Red Spring and West Andover Road where Reservation Road is now. It had been thought to be an Native American burial ground because of the artifacts found here. It was determined, however, that Native Americans used the ridge as a pathway.
At the end of the 19th century, the ridge was a popular recreation area. When a sawmill sought to purchase the land, the townspeople launched a public subscription campaign to raise the purchase price of $4000. The Abbot family dropped the price to $3500, the sum that had been raised, and the land was purchased to preserve this unique geological formation on December 16, 1897.
See
The Townswoman's Andover by Bessie Goldsmith (974.45 Gol), page 13 to page 16.
Indian Ridge Scrapbook by Alice Buck (Andover Room 974.45 Ind)
"Andover's historical women activists just rediscovered," Eagle Tribune, December 23, 1980, p. 19 (below).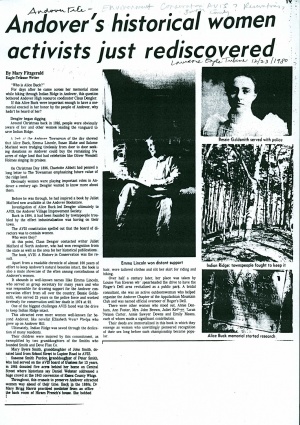 --Eleanor 15:18, December 16, 2006 (EST)
--Kim (talk) 09:52, 26 May 2015 (EDT)

back to Main Page