Shawsheen River
From Andover Answers
The Shawsheen River flows 25 miles from its headwaters in Bedford to its confluence with the Merrimack River in Lawrence. The river loses 70 feet in elevation along the way. According to legend, the name "Shawsheen" is a Native American word meaning "serpent" or "serpentine", while other sources interpret the name to mean "Great Spring" and "Beauty's Pathway".

See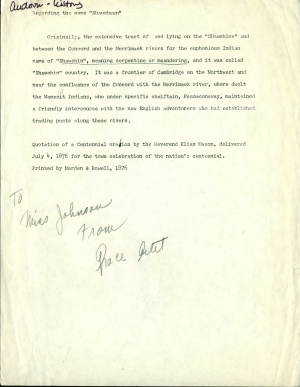 "For Powder Mill Square Residents flood hearing," Andover Townsman, June 24, 1999, p. 1.
"Footbridge over Shawsheen begins to take shape," Eagle Tribune, February 14, 2005, p. 1.
"Removing Shawsheen River dams under study," Andover Townsman, December 18, 2008, p. 1.
"Fishing for an answer: Andover eys removing dams to promote fish, use of Shawsheen," Eagle Tribune, March 30, 2008, p. C1.

--Glenda 16:27, January 12, 2007 (EST)
--Kim 16:54, August 28, 2013 (EDT)
back to Main Page