Parks
From Andover Answers
History of Parks
Andover has valued its parks for a long time. In 1897 Andover set up a Park Commission. The first project of the commission was saving trees in the Carmel Woods. Shrubs and bushes were also planted. But vandilsm in the park ended the beautification in 1933 project and trees were cut down and given to the poor.
The second project of the commission was Richardson Field, which became Central Park. See entry below.
See
Andover Park 2000
Andover Park 2000, a project of Doherty Middle School, is located in Central Park on Bartlett Street. It contains plaques of people significant in Andover history.
See
Andover Townsman, June 22, 2000.
Andover Vertical File, Andover Park 2000 booklet with timeline and tree names.
Castle Park
Castle Park is located on the banks of the Shawsheen River adjacent to the Marland Mill, now Atria Assisted-Living. The park cleanup, along with Wood Garden was a 350th celebration activity. It was dedicated on September 29, 1996.
See
The Park, also known as Central Park
In 1899 the Town of Andover purchased "Richardson Field" and a parcel of land from J.W. Berry for a park in the center of town. Through the years it has been called "Central Park, The Common, and the Park with a Gazebo, but, according to the Andover Historical Society, the official name is just "The Park."
In 1906 Rodgers Brook was dammed to create a pond in the Park. The brook was diverted to an underground pipe running through downtown Andover in 1968.
The Bandstand in Central Park was originally constructed in 1913. According to Community Services Librarian, Norma Gammon, the design was changed in the 1980's.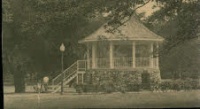 See
Andover, What it was, what it is: 300th Anniversary May 30, - June 2, 1946 published by the Andover Townsman Press.
"A Park by Any Other Name", Townsman ("The Back Page") , December 29, 2005
"Recalling high, low bandstand moments," Andover Townsman, October 18, 2012, p. 10.
See
"Park's name splits townies, newcomers," Eagle Tribune, November 28, 2005, page 1.
Past and Present. Andover Townsman, December 8, 2005.
"'Andoverisms' punctuate local conversations," Andover Townsman, November 21, 2013, p. 15.
Andover a Century of Change:1896 - 1996 by Eleanor Motley Richardson, page 2006 (974.45 Ric).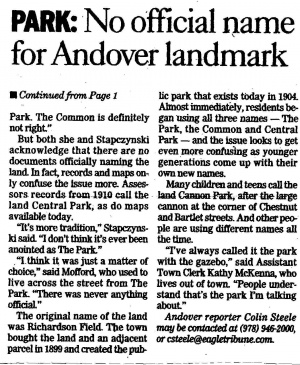 Penguin Park
"Motley crew crafts new Andover playground," Boston Globe, May 13, 1990, p. 1.
Peter Aumais Park
The Andover High Varsity Baseball Park was dedicated in memory of Peter Aumais, 1976 team captain, on April, 26, 2000
Andover Townsman, Thursday, March 23, 2000, page 39.
Peter Aumais Park Dedicated. Andover Townsman, May 4, 2000, page 44.
Shawsheen River Park
The Andover Rotary Club adopted the old bowling green ( part of the recreational facilities of the Balmoral Spa ).
William Wood Memorial Park
See Wood Garden
--Eleanor 14:49, May 31, 2006 (EDT)
--Eleanor 11:22, December 8, 2014 (EST)

--Eleanor 16:53, March 14, 2006 (EST)
--Eleanor (talk) 14:23, 22 October 2015 (EDT)

back to Main Page