Schools Constructed Prior to 1950
From Andover Answers
North District School
The school was located on the corner of North Street and River Road from 1835 to 1947. Later the building was used by West Andover Community Associaton. It was demolished in 1984.
Andover Townsman, November 10, 2005
North Parish School
The first school house in Andover was erected in Feb. 3, 1701, in North Parish (now North Andover). In 1718, a second schoolhouse was erected in South Parish.
Lawrence Eagle Tribune, October 22, 1964
Punchard Free School
The Punchard Free School, at 36 Bartlett Street, was founded in 1856 by bequest of $50,000 from resident Benjamin H. Punchard. The school was dedicated September 2, 1856 but fire destroyed it 12 years later. The school was rebuilt under the jurisdiction of the town. Public funding began in 1901 and the school was renamed Punchard High School. When a new high school was built in 1957, Punchard became Andover Junior High. The last high school class graduated from Punchard on June 14, 1957. Conversion to town offices began in 1982.
Andover Townsman, December 30, 2004
Andover Townsman, June 20, 1957
The Townswoman's Andover by Bessie Goldsmith, pages 43-39 (974.45 Gol)
Stowe School
Stowe School, named after Harriet Beecher Stowe, was located on Bartlett Street from 1894 to 1971. It housed the Central Grammar School.
Andover Townsman, June 19, 2003
Chronology of Andover Schools
The chronology of Andover's school buildings was researched by James Batchelder.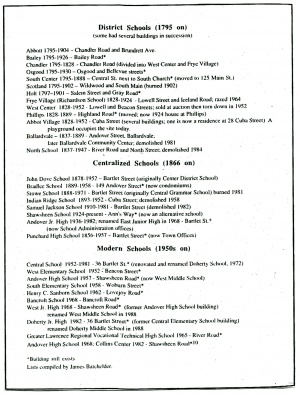 Andover Public Education Started by 1647 Law. by Jim Batchelder, Andover Historical Society.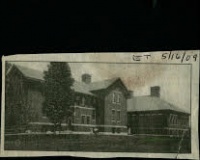 Eagle Tribune, May 16, 2009.
--Eleanor 11:40, February 13, 2010 (EST)--
Leslie 16:57, August 21, 2012 (EDT)--Leslie 14:45, September 11, 2012 (EDT)
--Eleanor (talk) 15:05, 22 January 2016 (EST)
back to Main Page