Difference between pages "Andover Musicians and Musical Groups - Crash Kings" and "Colonial Theater"
From Andover Answers
(Difference between pages)
 

 

Line 1:
Line 1:
−

*In 1997 Tony Beliveau won the Mr. AHS contest using his jazz piano playing skills.

+

In the .  

 
 
 
+
 
 
−

*Both Tony Beliveau and his brother Mike graduated from Andover High School and the Berklee College of Music. They moved to New York City in 2004.

+

the in .

−

 

+
−

 

+
−

*After another move to Los Angeles in 2006, Tony Beliveau (vocalist, keyboards) and his brother, Mike Beliveau (bassist) formed a rock band, the Crash Kings, with Jason Morris (drummer). The band name came from their habit of playing at parties they had crashed.

+
−

 

+
−

 

+
−

*In 2009 they released an album ''Crash Kings'', with a hit called ''Mountain Men'' which became the #8 song on the charts. Tony Beliveau writes all the lyrics.

+
−

 

+
−

 

+
−

*They have toured with such well-known rock musicians as the Stone Temple Pilots.

+
 
 
 
+
 
 
 

See

 

See

−

 

+

*..//,  by ., page

−

*From Mr. AHS, to a King. ''Andover Townsman''.  3/18/2010,  page 5.

+
−

 

+
−

*Band Led by Andover Brothers on EarthFest Bill. (photo)'' Eagle Tribune'', 5/20/2010, page

+
−

 

+
 
 
 

<br style="clear:both;" />

 

<br style="clear:both;" />

−

 
−

<!-- insert signature here, if desired -->--[[User:Leslie|Leslie]] 16:29, November 29, 2011 (EST)

 
−

 
 

back to [[Main Page|Main Page]]

 

back to [[Main Page|Main Page]]

 

[[Category:Andover Answers Index]]

 

[[Category:Andover Answers Index]]
---
Revision as of 11:54, 18 March 2015
The Colonial Theater was located on Essex Street. In the 1950's it changed its name to Andover Playhouse and was once the home of the Andover Senior Center.
It functioned as a movie theater. Movies could not be shown on Sundays until 1933.
It was razed for the parking lot behind the Memorial Hall Library in 1985.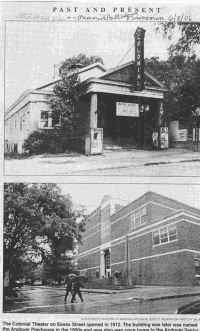 See

back to Main Page