Smith and Dove Flax Mills: Difference between revisions
Jump to navigation
Jump to search
Line 25:
Line 25:

[[Image:hillsidehouse.jpg|200px|thumb|left|Hillside House]]

[[Image:hillsidehouse.jpg|200px|thumb|left|Hillside House]]






''

 

The Townsman'', November 19, 2015, page 11

 

 

''The Townsman'', November 19, 2015, page 11






<br style="clear:both;" />

<br style="clear:both;" />
---
Revision as of 16:23, 22 January 2016
John Smith was born in Brechin, Scotland in 1802. After the death of his father in 1810, John was unable to attend school regularly and began to work on farms and in flax mills to help his family survive.
Smith left Scotland and traveled to Boston via Halifax, Nova Scotia. He arrived on December 15, 1816. He found work as a machinist in Watertown. He left to travel the country in August of 1819, arriving back in Medway, Massachusetts in 1820, where he worked as a machinist again.
Smith founded a machine company in Plymouth known as John Smith & Co and asked his brother Peter to join him in America. Seeking the water power in Andover, John and his two business partners moved their company to an unoccupied mill in Frye Village in 1824; the business partners died in 1829.
In 1833, Peter Smith and John Dove decided to form a company to spin flax and manufacture machinery needed for the process. They had originally met in Scotland where they worked for John Dove's father. John Smith went into business with them and eventually the company ceased making machinery. They bought water power and buildings from Abel and Pascal Abbot in Abbot Village in 1843. In 1864, John and Peter Smith and John Dove incorporated as the Smith & Dove Company. By 1896 they employed 300 people.
John and Peter were philanthropists. John donated funds to Phillips Academy, Abbot Academy and $50,000 to establish Memorial Hall Library. John saw slaves being sold in South Carolina and became a staunch abolitionist. He founded the Free Christian Church based on anti-slavery doctrine - something he became adamant about after seeing slaves being sold in his travels in the South. Peter was a supporter of the West Parish Church.
John's home on 349-351 North Main Street became the Shawsheen Manor.
Both John and Peter are buried at the West Parish Garden Cemetery.
See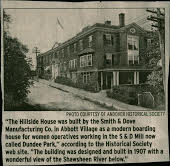 The Townsman, November 19, 2015, page 11
--Eleanor 12:53, October 7, 2006 (EDT)
--Leslie 17:48, August 8, 2012 (EDT)
--Eleanor 20:46, December 27, 2012 (EST)
--Eleanor (talk) 14:58, 22 January 2016 (EST) back to Main Page