Andover Author - Harriet Beecher Stowe
From Andover Answers
Harriet Beecher Stowe lived in Andover from 1852 to 1864 while her husband Calvin E. Stowe was a professor at the Andover Theological Seminary. Originally, the Stowe house was located on the property of the seminary. It was moved to 80 Bartlet Street in 1929 when Phillips Academy decided to replace the house.
Stowe's famous anti-slavery novel, Uncle Tom's Cabin, was first published in serial form before she moved to Andover. The book was published in 1852, while she lived in Andover. 3,000 copies sold the first day and 300,000 copies sold in the United States the first year, yielding her $10,000 in royalties.
A little known fact is that she introduced the Christmas Tree to Andover.
Although she was born and died in Connecticut, she and her husband are buried in the Chapel Cemetery at Phillips Academy.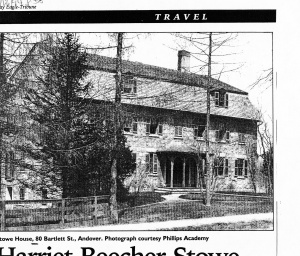 See
--Eleanor 15:45, August 15, 2007 (EDT)
--Kim 10:04, November 30, 2011 (EST) back to Main Page