Andover Baptist Church
From Andover Answers
The Andover Baptist Church was formed in 1833. The building was erected in 1834. To finance the building the basement was mortgaged to the grocer T. A. Holt. In 1923 the Church bought the mortgage and remodeled the space for Sunday School rooms.
The Rev. Lyndon Myers was installed in 2004.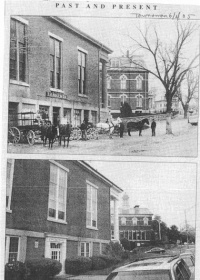 See
"New leader - and followers - for one of town's oldest churches," Andover Townsman, August 19, 2004, p. 1.
"Once on the verge of closing, Andover Baptist reaches 175 years," Eagle Tribune, August 24, 2007, p. 1.
"Minister helped parish climb back," Andover Townsman, September 6, 2007, p. 9.
"Prayers come in for recovering church pastor," Andover Townsman, January 8, 2009, p. 1.
"A Happy 180th Andover Baptist Church: Town's second oldest spiritual home stands devoted to original mission," Andover Townsman, November 20, 2014, p. 13.
For a complete list of Andover Churches see Houses of Worship in Andover
--Kim 14:22, July 26, 2013 (EDT)
--Eleanor (talk) 13:55, 26 March 2015 (EDT)
--Eleanor (talk) 15:41, 8 May 2015 (EDT)
back to Main Page