Andover Biography - Abraham Marland
From Andover Answers
Abraham Marland, born in Ashton Lancashire in 1772, is recognized as one of the founders of the textile industry in New England. He began his career as an apprentice in Lancashire and then emigrated to America in 1801 and worked first in the cotton mills in Byfield. After 2 years he bought a small mill in Lynnfied. Eventually he settled in Andover because of the available water power and began to manufacturing cotton and went on to manufacture wool. During the War of 1812 his company manufactured blankets for the army. After the war he began to manufacture flannel and leased land on the Shawsheen River where he erected a brick mill and tenement houses. This site originally housed a powder mill. He acquired more and more land on the Shawsheen River, and in 1832 built the Marland Manufacturing Company. Marland Manufacturing Company was sold to Moses T. Stevens of North Andover in July of 1870. Stevens continued to produce flannel and woolens.
Marland, an Episcopalian, was determined to have a Episcopalian Church in Andover and founded Christ Church donating the land and building a rectory in 1835.
The Punchard High School is named after Marland's son-in-law Benjamin H. Punchard.
Abraham Marland died on February 20, 1849.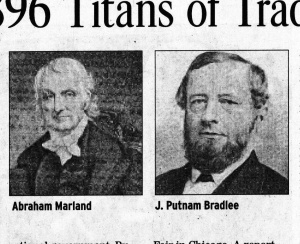 See
--Eleanor 16:05, December 26, 2012 (EST)
back to Main Page