Andover Business - Andover National Bank
From Andover Answers
Andover National Bank shared a Main Street building with Andover Savings Bank constructed in 1890. The Andover Savings Bank became Andover bank; In 1956 the Andover National Bank merged with the Merrimack National Bank to be called the Andover and Merrimack National Bank which merged with the Methuen National Bank in 1957 to become the Merrimack Valley National Bank. BayBanks Inc. acquired the Merrimack Valley National Bank.
See
The People Places & Events: a history of BayBank Merrimack Valley", Andover Room File.
A Historical Sketch Covering One Hundred Twenty Years of the Andover National Bank. Andover, Massachusetts 1826-1946, Andover Room File-Business.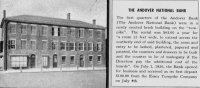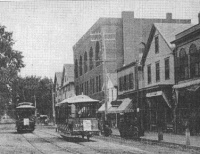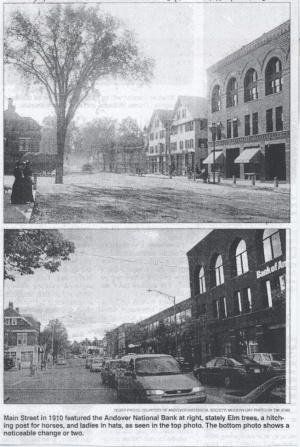 The Andover National Bank is in the center of the picture. The electric Trolley lines were installed to travel to Lawrence in 1891, to Reading in 1900 and to Haverhill in 1901.They operated until 1934.

--(Eleanor) 14:55, August 24, 2011 (EDT)
--(Eleanor) 14:55, April 1, 2015 (EDT)
--(Eleanor) 14:55, May 8, 2015 (EDT)

back to Main Page