Andover Business - Bella Beads Boutique
From Andover Answers
This jewelry and beading store opened on November 11, 2006 in Old Andover Village. It is owned and operated by Carla Byrne.
Bella Beads boutique offers a global selection of beads as well as consignment items made by local jewelers, finished pieces, and jewelry repair. There are also beading workshop classes offered from both adults and teens.
Other unique services include:
vintage redesign services
customized jewelry for weddings and proms
a monthly teen showcase to feature the work on young, local artists
See
"Get a bead on this", Andover Townsman, November 16, 2006.
"Blowout sale attracts shoppers downtown", The Andover Townsman, March 19, 2009.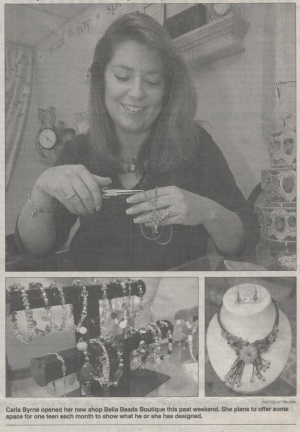 back to Main Page
--Jen 15:36, August 12, 2010 (EST)