Andover Business - Bertucci's
From Andover Answers
Bertucci's opened a franchise location in Andover in 1994 on Main Street. It was initially just a take-out satellite location to supplement the North Andover eatery. However, the owners saw the potential for more business if the space was transformed into a 36-seat restaurant. There is now also room for 20 additional patrons outside during the summer months.

See
"Bertucci's celebrates silver anniversary", Andover Townsman, October 12, 2006.
"Town officials like idea of outdoor dining downtown", The Andover Townsman, January 3, 2008.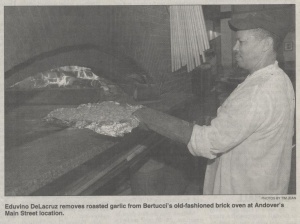 back to Main Page
--Jen 15:59, August 12, 2010 (EST)