Andover Business - Burke Funeral Home
Jump to navigation
Jump to search
The Burke Funeral Home has been in the Burke family since the early 1900's when Michael A. Burke opened the business at 134 South Broadway in Lawrence, MA. In 1932, Burke moved operations to Andover in a location on North Main Street. Shortly after relocating to its current location at 390 North Main Street in 1949, Burke passed away at the age of 60.
His oldest son, Garrett, bought the property from Michael's wife and acted as director until he passed away in 1980 at the age of 62. At that point, the funeral home passed to Garrett's son Garry. In January of 2004, Garry sold the Burke Funeral Home to Joel Magliozzi. The name changed and is now the Burke-Magliozzi Funeral Home. The Burke-Magliozzi Funeral Home hosts approximately 80 funerals a year. Magliozzi also owns Beals-Gaeke Magliozzi Funeral Home in Medford.
See
"Burke Funeral Home changes hands", From the Andover File.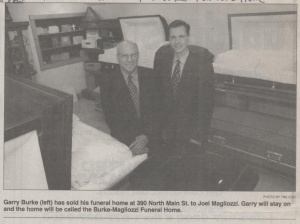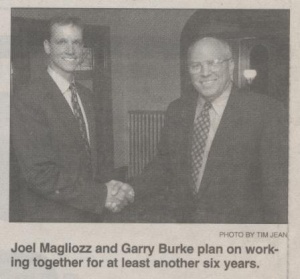 back to Main Page
--Jen 13:26, August 20, 2010 (EST)