Andover Business - Carina & Co.
Jump to navigation
Jump to search
Carina & Co. is a jewelry boutique located at 3 Bernard Street in Downtown Andover. This location used to be the home of the Sandpiper Shop. Carina & Co. was opened in 2004 by Nicole (Corey) Allard and her mother Michelle Corey. The shop is named after Nicole's daughter Carina.
In 1992, Michelle opened a beauty supply shop in Andover. Her daughter had spent the 8 years prior to opening Carina & Co. in a legal field. When their circumstances changed, they decided to go into business together. Nicole does the marketing and advertising and Michelle talks with customers and helps them with makeup choices. The store sells women's and teens' accessories, bridal accessories and party gifts.
In 2012 Michelle Corey opened Boston Biofeedback where Carina & Co. had been located.
See
"Carina & Co.: Downtown's new accessory", The Andover Townsman, July 21, 2005.
"More moms, daughters joining forces", The Eagle Tribune, May 10, 2009.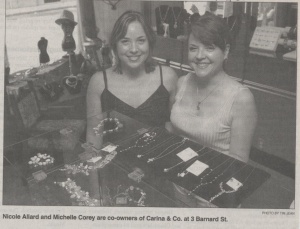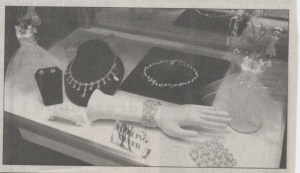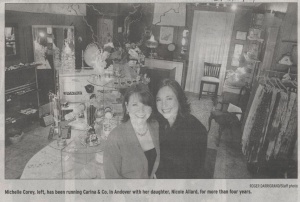 back to Main Page
--Jen 14:36, August 26, 2010 (EST)
--Ruth 11:59, May 12, 2012 (EDT)