Andover Business - Kabloom
From Andover Answers
Kabloom is a floral chain store which is headquartered in Boston, MA. They have a location at 16 Main Street in Andover. When Kabloom closed Kokee flowers moved into the location.
In the 1970's Hughes Pharmacy was the store on the corned on Main and Park Streets. It was one of three pharmacies on Main Street at that time along with Hartigan's amd Simeone Drug Store.
See
"Kabloom founder delivers 'local marketing' message", The Eagle Tribune, January 30, 2009.
Past and Present, Andover Townsman, December 28, 2006.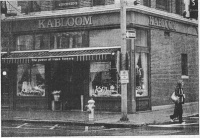 back to Main Page
--Jen 10:13, November 16, 2010 (EST)
--Eleanor 11:27, December 8, 2014 (EST)