Andover Business - Olde Andover Village
Jump to navigation
Jump to search
Olde Andover Village, at 89-93 Main Street, was the largest downtown business property, housing more than 30 businesses. This shopping plaza was created out of a 1961 commercial addition to a large 1910 single family home. Peter Onanian had been the owner of Olde Andover Village for at least 3 decades. In 2011, he sold it for $7.4 million to a partnership called Avison Young. Partners included Senator Barry Finegold, Scott Jameson, and John Fenton, among others. They planned extensive renovations. In January 2012, four months after the sale, busineses received notices to vacate within one month. Olde Andover Village has been renamed Andover Village Square. A number of businesses have left and new ones have moved in.
"Olde Andover Village Complex Being Sold," (photos) Andover Townsman, August 25, 2011, page 1, 3.
"Demolition Underway at Olde Andover Village," (photos)Andover Townsman, January 12, 2012, page 1,8.
"Past & Present: Olde Andover Village," Andover Townsman, October 11, 2012, page 3.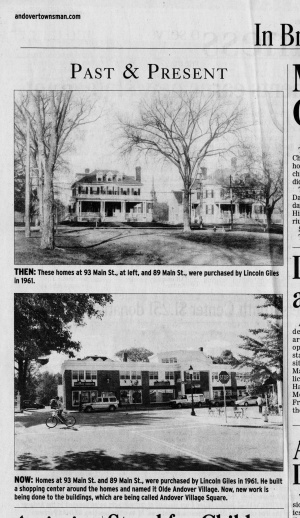 --Leslie 11:53, July 12, 2012 (EDT)
--Kim 14:45, January 14, 2013 (EST)
back to Main Page