Ballardvale
Jump to navigation
Jump to search
The Ballardvale area in Andover is named after Timothy Ballard who owned a salt and grist mill in the 18th century. In 1836, John Marland built a woolen mill on the site that went bankrupt in 1857. The company treasurer, J.P. Bradlee aquired the mill, named it the Bradlee Mill, but the area continued to be called Ballardvale.
Interesting facts:

The Lithia Spring Company in Ballardvale sold bottled water with lithium in it. Lithia salts were added to the water. Paul Hannigan from Lawrence set up the company in the 1880's. The company furnished the only carbonated water carried by the United States Navy when they went on their World Cruise in 1912. The company was bought by another group of men in the 1890's. Mineral water was very popular at the time. Lithium was not discovered as a treatment for mania until 1948.
The first successful machine cut steel files were made at the Whipple File Co. in Ballard Vale in the 1850s.
The first railroad, opened in the summer of 1836, went from Wilmington to Andover and entered Ballard Vale behind the South School. The original railway station still stands on Andover Street.
In 1848, the Ballard Vale District School had 178 pupils and two teachers who received a salary of $40 per month.
In 1890, the new Ballardvale School was the only school in Andover with running town water.
In 1995 the Ballardvale Historic District Commission was created to preserve the characteristics of Ballardvale.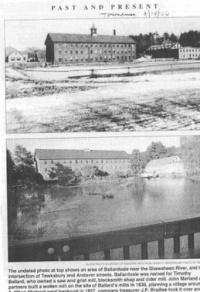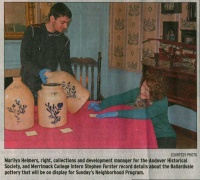 See
History of Ballardvale Andover Room 974.45 His A compendium of articles about Ballardvale, taken from a variety of sources.
"Andover's Former Mill Village," Andover Townsman, January 4, 1996, p. 17,18,21. (Celebrating Andover's 350th Anniversary insert, photos)
"Mills of Ballard Vale Captured Attention of Artist Sheeler (Charles Sheeler)," Boston Globe, September 8, 1996, Northwest section, p. 17.
"Smooth sailing so far for Ballardvale Historic District," Andover Townsman, January 14, 1999, p. 17.
"Behind Ballardvale," Townsman, November 6, 2003
"Ballardvale had Something in the Water: Gold-medal Winning Lithium.Virginia Perry Reck," Andover Townsman, 8/27/2009, p.13.
"1896 Titans of Trade," Andover Townsman, January 17, 2013, p. 5.
"1896 Titans of Trade Part II: Downtown Merchants," Andover Townsman, January 24, 2013, p. 16.
"Next stop: Ballardvale: Historical Society hosting Neighborhood Program," Andover Townsman, April 9, 2015, p. 5.