Fire Department / Fire Stations
From Andover Answers
1829 - An engine house was built for the Friendly Fire Service, a private company.
See

1833 - Town Meeting voted the sum of $365 to build an engine house on Essex Street.
1855 - The town splits. North Andover gets two fire engines; Andover gets one.
1862 - The Friendly Fire Society was renamed the Shawsheen Steam Fire Engine Company.
1882 - A new fire station was built behind the Town Hall on Main Street
1895 - The Ballardvale Station was relocated to the corner of Andover Street and Clark Road.
See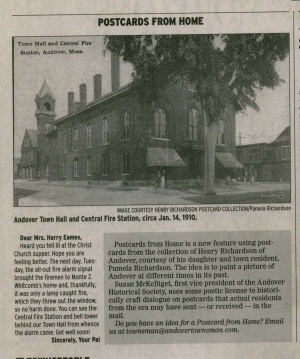 See
"Postcards from home," Andover Townsman, December 25, 2014, p. 16.


1924 - Andover established a Fire Department with Charles Emerson appointed as the first Fire Chief. By then "horses had become a thing of the past."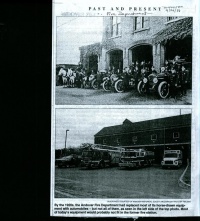 See
"Past and Present" The Townsman, April 20, 2006


1966 - A new fire station was built in West Andover on Chandler Road.
See

1997
The Fire Department bought a hovercraft to aid water/ ice rescues.
See
"Fire Department Will Hover to the Rescue", Townsman, August 28, 1997, page 1.

2002
In September Main Street Fire Station was razed and construction was begun on the Andover Public Safety Center to house both fire and police.

2006 - There are three fire stations in Andover:
Central Headquarters at 32 Main Street
West Fire Substation at 200 Greenwood Road
Ballardvale Fire Substation at 1 Clark Road
See
"Decisions Await", Andover Townsman, July 10, 2008, page 1.
"Andover Mulls the Future of Ballardvale Fire Station", Eagle Tribune, March 17, 2009, page 1 and 4.
"Vote a Step Toward Replacing Ballardvale Fire Station", Andover Townsman, June 4, 2009, page 5.
"Two sites eyed in final Ballardvale fire station plan," Andover Townsman, October 10, 2013, p. 1.
"New options for Ballardvale fire station," Andover Townsman, 6 February 2014, p. 1.
--Eleanor 15:34, August 23, 2006 (EDT)
--Eleanor (talk) 15:05, 5 November 2015 (EST)
--Eleanor (talk) 15:06, 27 April 2016 (EDT) back to Main Page