Memorial Hall Library - Benefactor
From Andover Answers
John Smith, an Andover industralist, donated $25,000 to construct a public library in Andover in 1870.

His portait hangs in the reading room of the library. On May 18, 1997, a vandal ripped the portrait with an umbrella. The vandal was caught.
See
Original Art at Memorial Hall Library for a photo of the portrait.
Andover Townsman, June 12, 1997, page 2
Eagle Tribune, May 20, 1997.
"Vandals Damage Painting at the Library, Andover Townsman, May 19, 1997, page 29.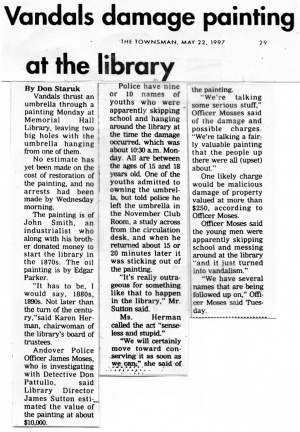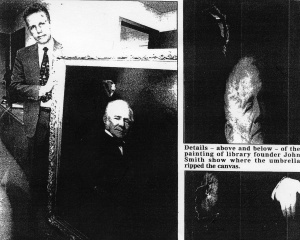 --Eleanor 11:49, April 13, 2007 (EDT)--Leslie 18:02, August 8, 2012 (EDT)--Leslie 18:02, August 8, 2012 (EDT)
back to Main Page