St. Francis Seminary
From Andover Answers
The St. Francis Seminary, a Catholic school to train boys for the priesthood, was built on River Road near the Tewksbury line in 1930. The seminary was closed in 1977. The building then became part of the Franciscan Retreat and Conference Center.
See
"St. Francis Seminary Lights Drew Thousands of Onlookers," Andover Townsman, December 18, 2008.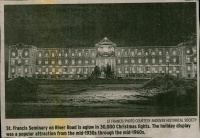 With Christmas Lights - A popular holiday sight form the mid-1930's to the mid-1960's Andover Townsman, December 25, 2014, page 14.
--Eleanor 15:53, August 17, 2011 (EDT)
--Leslie 16:23, July 31, 2012 (EDT)
--Eleanor (talk) 15:33, 22 January 2016 (EST)
back to Main Page