Tyer Rubber Company
Jump to navigation
Jump to search
18 Railroad Street given as Tyer Rubber Company address in Andover Historic Building Survey, 30 Railroad Street now address for Andover Commons.
In 1856, Henry G. Tyler began to make rubber cement and overshoes called Compos in the Old Whipple File Building in Ballardvale. Two years later he moved to North Main Street. After obtaining a patent for combining zinc oxide with rubber to create a white rubber, he began to produce surgical and pharmaceutical products such as syringes and bulbs under the Tyrian trademark. Throughout its history, Tyer Rubber had a continuous history of invention and innovation.
When Henry G. Tyler died in 1881, his son Horace H. Tyer inherited the business. In 1912, Tyer built a large new steam-powered factory on Railroad Street to manufacture automobile tires.
At the turn of the century the company was one of the first to produce inflatable bladders as rubber centers for baseballs, footballs, and golf balls. By 1906, Tyer had a workforce of 500 and annual sales of a million dollars. Horace Tyer died in 1907 and in 1909 Myron H. Clark became the President of the company with Henry G. Tyer as Vice-President. In the 1920's, Tyer stopped making tires, and began to concentrate on player piano tubes, tobacco pouches, and rubber rolls for the paper industry.
During World War II, Tyer Rubber received the Army-Navy Production Award for its rubber pontoons and reconnaissance boats, made by a new process Tyer invented called "hotcure." By 1956, their sales were 7 million dollars per year, and they had 1100 employees. In 1961, Tyer was bought by Converse Rubber to make canvas footwear as well as hockey pucks as the sole supplier to the National Hockey League. The North Main Street buildings were razed in 1963 and 1967, replaced by public safety buildings. Shoe manufacturing ended in 1977. A group of employees bought the buildings from Converse in 1978, continuing the production of rubber rolls. A year later the buildings were sold and, in 1981, the Railroad Avenue building was converted to Andover Commons, low and moderate income and elderly housing.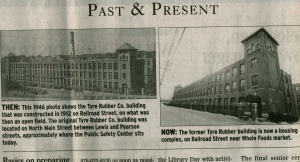 See
After Him You're First.(Pamphlet put out by Tyer rubber about their products during WW II.) Andover Room R 678.2 Aft (pamphlet box 4).
Business History of Andover. 1896. (photos of Henry G. Tyer and Tyer Rubber building)Andover Room R 974.45 Bus, pages 20-21.(pamphlet box 4)
Motley, Eleanor. Andover: A Century of Change, 1896-1996.. 974.45 Ric,pages 61,75,85-87,134,185 pages 61,75,85-87,134,185
"A Rubber Concern of World Wide Repute," Lawrence Telegram, 2/7/1927.
"Army-Navy excellence Award for Tyer Rubber," Lawrence Evening Tribune, 9/23/1942.
"Tyer Rubber Celebrates Opening of New Building," Andover Townsman, 8/20/1953.
"Over the Years, the Valley Has Many Firsts," Eagle Tribune, 4/4/1989, page A2.
"Andover's Last Smokestack is Drifting into History(smokestack on former Tyer Rubber facility at 30 Railroad Street taken down, photo)," Andover Townsman, 5/17/2012, p. 7.
"Past & Present: Tyer Rubber Building," Andover Townsman, January 24, 2013, p. 2.

--Leslie 12:25, February 10, 2012 (EST)

--Eleanor 13:05, October 7, 2006 (EDT)
--Leslie 13:54, May 17, 2012 (EDT)
--Kim 10:54, May 10, 2013 (EDT)
back to Main Page