Difference between pages "File:Vandalsphoto.jpg" and "Fourth of July Horribles Parade"
From Andover Answers
(Difference between pages)
 

 

Line 1:
Line 1:
 
+
 
 
 
+
 
+
 
+
 
+
 
+
 
+
 
+
 
+
 
+
 
+
 
+
 
+
 
+
 
+
 
+
 
+
 
+
 
+
 
+
 
+
 
+
 
+
 
+
---
Revision as of 16:37, 8 May 2015
The tradition of the Fourth of July horribles parade in Andover dates back to the early 1800s. The tradition waned over the years and was resurrected in 1970 by the Andover Service Club. In 1982 there was another revival of the Fourth's celebrations by the nonprofit Committee for Patriotic Observances.
The orginal parades were more an adult political event featuring floats and marchers making fun of town officials or adults dressed as hobos with carriages decorated with junk. The contemporary parade includes a more patriotic flavor of floats, children in costumes, decorated bikes and doll carriages, dressed up dogs, and patriotic banners and flags.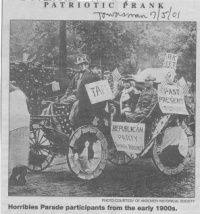 See
"Horribles Parade wasn't always for kids," Andover Townsman, July 1, 1999, page 19.
"Andover has 'Horrible' history," Eagle Tribune, July 3, 2002, p. 1.
Lawrence Eagle Tribune, July 5, 2005
--Glenda 10:37, November 24, 2006 (EST)
back to Main Page
File history
Click on a date/time to view the file as it appeared at that time.
You cannot overwrite this file.
File usage
The following page links to this file: