Andover Business - Boston King Cafe
Jump to navigation
Jump to search
Boston King Cafe, serving breakfast all day, opened on April 26, 2008 by Andover resident Sun Son. It is located on North Main Street in the same location where Friendly's used to be until closing in 2005. The building was purchased by Butler Bank and they chose to rent out space to other local businesses, including Boston King Cafe, a law office and an orthodontic practice.
Boston King Cafe is the sister of Boston King Coffee located in Woburn.
Boston King Cafe had been closed multiple times by the Board of Health. The Board suspended the restaurant's license in October 2013. In November 2013, The Board of Health voted to rescind the license suspension because the restaurant made significant changes, including hiring a full-time chef with 25 years in the industry.
See
"Andover man to open cafe in bank building", Eagle Tribune, January 9, 2007.
"Bumper crop of banks springs up in Andover", The Andover Townsman, May 31, 2007.
"New cafe has opened", Andover Townsman, May 1, 2008.
"New cafe opens on North Main", Andover Townsman, May 8, 2008.
"Boston King Care set to return," Andover Townsman, November 21, 2013, p. 8.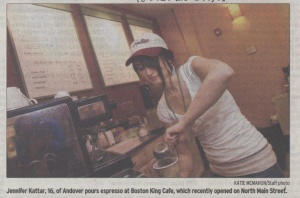 back to Main Page
--Jen 11:42, August 19, 2010 (EST)
--Kim 09:36, November 22, 2013 (EST)