Andover Business - Christina's Fine Designer Fashions and Bridal Salon
Jump to navigation
Jump to search
Christina's Fine Designer Fashions and Bridal Salon is located on Main Street in Andover and is co-owned by Steve Kalman and Christine Canto-Kalman. The two went into business together in 1984 when they opened Christina's in the Park Street Village in November 1984. As the business grew, they decided to open a bridal shop next door and by 1994 the two businesses merged and moved to Main Street.
The shop began as a high-end fashion store for women but now carries 18 design bridal lines. In the store, one can find more than 250 bridal gowns and 400 bridesmaid dresses.
In 2010, Kalman purchased the One Main Street Building (formerly home to Kaps) and opened The Bridal Center in May of 2011.
See
"20 years, countless weddings for shop", The Andover Townsman, November 11, 2004.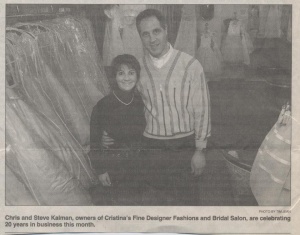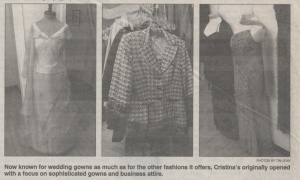 --Jen 10:07, September 29, 2010 (EST)
--Ruth 11:48, February 2, 2013 (EST)
back to Main Page